Personal Banking
Manage My Money 
Looking to improve your money management?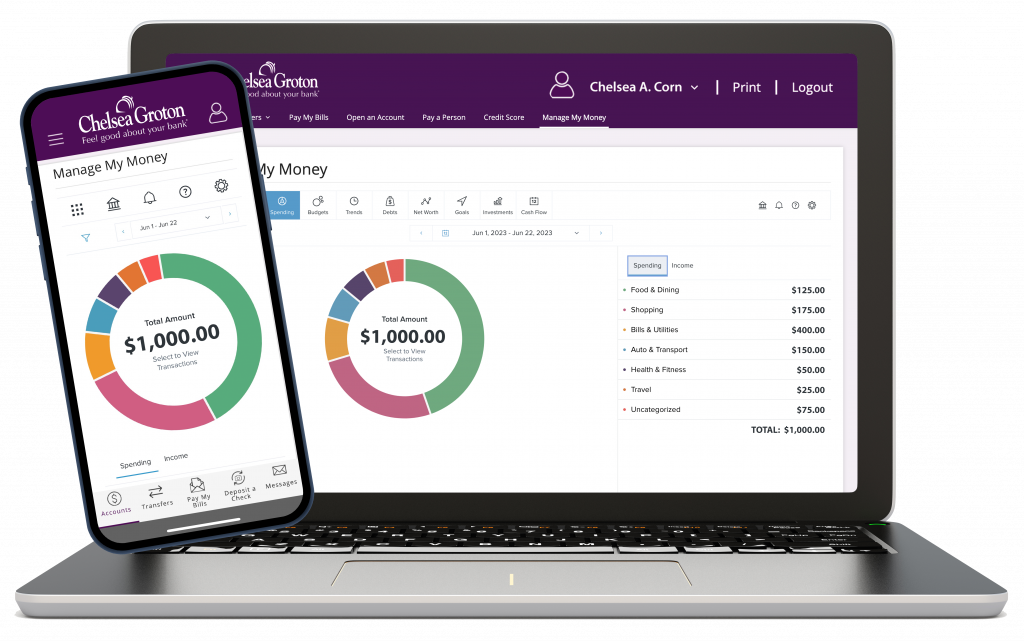 Chelsea Groton's new Manage My Money tool tracks your finances across all financial accounts in one place. Money management has never been more convenient! Review spending trends, set budgets, establish financial goals, and get personalized recommendations on how to pay down debt quickly, all within one powerful tool located within the Bank's online and mobile banking platform.
Here are some benefits to using Manage My Money for your go-to money management tool:
Accounts
Monitor financial activity across your accounts in one place. View your Chelsea Groton accounts and link accounts you have at other financial institutions for a full financial snapshot of your checking, savings, loan, and investment accounts.
Transactions
View an overview of recent spending across all accounts. Search or filter for something specific.
Budgets
Set realistic monthly budgets to manage spending and avoid exceeding spending limits. A color-coded bubble chart allows you to see the health and impact of your monthly spending, and where changes could be made for better budgeting in the future.
Spending
See where your money is going by category, so you can better understand your spending habits and money management to stay on track.
Trends
Review both income and spending trends in every category over set periods of time.
Goals
Make plans for savings, debt payoff, or retirement, and visualize progress towards these goals with a simple timeline.
Debts
See your debts in one place and create an expedited payoff plan using the snowball method, which can dramatically reduce the time it takes to pay off debt and the amount of interest you'll pay.
Net Worth
Track the sum of your assets and liabilities and see trends of gains and losses over time.
Investments
Track and analyze your investment portfolio performance, adjust your strategy, and determine your allocation.
Ready to improve your financial wellness?
Consumer and Business Online and Mobile Banking users can access Manage My Money from the header of their computer browser or the lefthand menu of the mobile app. After agreeing to the Terms and Conditions, users get full access to the wide array of money management tools. Instructions on how to use each tool within Manage My Money are available within the application. 
Yes, your Chelsea Groton accounts and transaction activity will link automatically. However, it is important to note that it may take up to 24 hours after you sign up for Manage My Money, complete a transaction, or open a new account for the information to populate in the platform. You may also need to enter specific account details, such as Interest Rate or Payment Schedules on loans, for the tool to track your spending. 
Yes, you can add checking, savings, credit card, loan, and investment accounts that you have at other financial institutions for monitoring within this tool. Within the Manage My Money tool, click Add Account, enter your username and password for your online profile at the financial institution of the account you are trying to add, and pass any security prompts directed by that institution. Each time you log into Manage My Money after adding the account, the transaction activity will populate within the tool. Please note, from time to time, you may need to re-enter your credentials for outside financial institutions to continue to access that account's data in Manage My Money.