Our Year — 2021
At Chelsea Groton Bank, we pride ourselves on combining the best people with the best technology, in order to provide a level of service that's unparalleled in our region. In 2021, just as we have throughout the Bank's 167-year history, we worked with customers and community members to help them conveniently and safely manage their finances and achieve their goals.
When I think about 2021 in retrospect, successfully adapting to change sums up the incredible year that we had. Some of the changes were short term, dealing with the constantly shifting sands of the COVID pandemic. Others were an acceleration of changes that have been brewing for years, even decades, suddenly becoming more acute as the epidemic forced changes in the behavior and priorities of our customers and communities.
Read the rest of the letter Michael Rauh, President and CEO, penned to the community here.
Team
The Bank proudly accepted the honor of being named a "Top Workplace in CT" by The Hartford Courant for the sixth consecutive year. A critical area of focus for team members this year was the development and launch of the ONE CHELSEA initiative, which highlights the strength of the Bank's continuous commitment to diversity, equity, and inclusion, and its focus on ensuring an ongoing sense of belonging for team members, customers, vendor partners, and all members of the community. As part of the Bank's birthday gift to the community, and in keeping with the spirit of ONE CHELSEA, the Bank's Facebook community was invited to vote on five organizations that were deserving of having an extra team of volunteers for a day. Once a month, 10 Chelsea Groton team members joined each of the selected organizations for a day of service.
Over 140 courses were taught to team members on product knowledge, leadership skills, customer service, and more, comprising over 980 total professional development hours. The Bank's Grow, Launch, Lead Leadership Program introduced Pathways, which invites all team members to customize a mentorship program in order to gain experience in areas of interest and support them on their professional development journey.
Other activities that Team Chelsea participated in included virtual water coolers, employee appreciation days, a Purple Palette painting activity through ONE CHELSEA to represent diversity at work, CFit team walking challenges and personal challenges related to physical and mental wellness, ice cream socials, various fundraisers for area non-profits and more.
Employees Raised
$6,800
for Local Organizations Through Casual for a Cause Days
68
leadership courses offered to team members at all levels
9975
Employee Volunteer Hours
183 team members completed
6,333
Blue Ocean Brain micro-online learning courses
Community
Chelsea Groton has always been committed to putting time, energy, and money into our local communities to make them stronger. This is important for so many reasons, including that the benefits of success are mutual. Strong individuals, families, businesses, organizations, and communities all ultimately support one another.
This year, the Bank and Chelsea Groton Foundation together gave over $600,000 to community organizations. An additional $22,000 was given to the local organizations of each employee's choice through the Acts of Kindness initiative.
We celebrated Pay It Forward Day by inviting our team of Chelsea Live Video Bankers to each nominate 1 non-profit that is important to them. The community was invited to vote during live conversations at our Video Banking ATMs or through our Video Banking App. The winning organization, Covenant Shelter of New London, received the most votes, earning them a generous donation, while the other organizations also received a smaller donation.
Prior to Thanksgiving, the Bank hosted a United Way Mobile Food Drive, where team members helped to distribute 250 pre-packaged holiday meals, making Chelsea Groton the largest UWSECT food distribution site in 2021. Chelsea Groton also hosted collection drives at each of its branches to support various non-profits throughout the holiday season and adopted 16 local families to provide them with a holiday season they wouldn't have had otherwise.
The Chelsea Groton Foundation Surpassed
$5 Million
in Giving Since Its Founding
100%
Participation in Acts
of Kindness Program
13
Collection Drives
Held During the
Holiday Season
Personal
Providing our branch teams with the tools, resources, and inspiration to deliver exceptional service to our customers, even as the pandemic raged on, was a real differentiator. They offered curbside concierge and hands-on training with customers on how to use our Video Banking ATMs. The teams also assisted small businesses with obtaining and applying for loan forgiveness through the Payroll Protection Program, and managed a steady stream of residential loan originations, all in the name of helping more of our customers achieve what they set out to do in a timely manner. In addition, the Westside Branch was reinvented, and in no time at all, was working one-on-one with customers, in an environment conducive to learning and collaboration, to assist with budget and credit repair after a trying year.
Through the Chelsea University community education program, 236 classes were offered to community members of all ages, some live from reinvented branch spaces, but almost all offered virtually as well. A spring and fall Small Business Series covered relevant topics for the prospective and current business owner. The Bank also hosted Digital Marketing classes, a Cyber Security panel discussion, and more for our business community. Class topics for individuals included Budgeting, Credit Repair, Homebuying, Social Security, Preparing to Be Your Parent's Caregiver, Transitioning Students Back to In-Person Learning, Online Cooking Classes, and much more. Kids (and their parents) benefitted from programming offered five days a week throughout the summer, in the areas of STEAM, a book club and an investment club. Additional financial education and lifestyle programming was offered on a near-daily basis online. In addition to live classes, on-demand content is available on the Bank's Learning Hub, Facebook and YouTube.
The Bank's continued focus on offering personal digital options for customers so they are able to bank when, where and how they want, led to the development and launch of Chelsea Chat, the transition of CGB Debit Cards to Contactless Cards, the ability to connect the Bank's Debit Cards to Mobile Wallet, and the increased adoption of the Chelsea LIVE Video Banking App. With the addition of five new Video Banking ATMs in 2021, there are now over 10 VBMs across the Bank's footprint, with more locations slated in 2022.
Hosted
2
In-Branch Career
Fairs
5
Additional Video
Banking ATMs Were Added
Chelsea University Offered
236
In-person and Virtual Education Classes
Home ownership
Chelsea Groton was the number 1 CT-based real estate lender in Eastern Connecticut, meaning the Bank provided more residential financing than any Bank, Credit Union or Broker based in CT in the region in 2021.
The Bank was thrilled to support 77 first-time homebuyers in their pursuits of achieving their dream of homeownership. Chelsea Groton worked with 19 low to moderate-income borrowers to acquire a lower rate mortgage through Connecticut Housing Finance Authority (CHFA), in order to obtain housing for themselves and their families.
In addition, the Bank announced its commitment to help borrowers with documented disabilities to purchase their first home, through CHFA's Home of Your Own Program. Chelsea Groton also partnered with Lawrence + Memorial Hospital to launch the Home Ownership Made Easier (HOME) program for eligible L+M employees to receive partial loan forgiveness, as well as other incentives, home buying support, and educational opportunities, when they purchase a home in the city of New London. Throughout 2021, the Bank helped 23 borrowers obtain over $250,000 in downpayment assistance grants or loans through partnerships with CHFA, L+M, the Federal Home Loan Bank (FHLB), and the Housing Development Fund (HDF).

#1
CT-based Real Estate Lender in Eastern CT*
$204M
in New Consumer Loans and Mortgages
190
Home Equity Loans and Lines of Credit
77
First-Time Home Buyers
*The Warren Group, Inc. Mortgage Marketshare Module Report- All Residentials, All Regions in New London and Windham Counties, CT Annual 2021
Business & commercial
Chelsea Groton's roots are in the development of local business partnerships, an idea that the Bank has never wavered on. While the effort around the SBA Paycheck Protection Program (PPP) was tremendous in 2020, work continued well into 2021 as Chelsea Groton supported businesses owners in applying for and obtaining the 3rd round of funding, and helping borrowers to apply for loan forgiveness. Inclusive of the $39 million in PPP loans, the Bank's commercial loan portfolio amounted to $255 million, as Chelsea Groton continued to provide credit lines, term loans, permanent commercial mortgages, construction loans, and SBA loans to businesses throughout New London, Middlesex, New Haven, Hartford & Fairfield Counties.
The Cash Management team enabled customers to introduce greater efficiency and security into their banking through use of the Bank's cash management services, including Remote Deposit Capture, ACH Origination, Positive Pay and Online Wire Origination. As cyberattacks and fraud schemes continued to run rampant, many businesses benefited from their adoption of Positive Pay, a fraud detection service, as well as customer education through live events, e-news communications, and one-on-on mitigation assistance.
Chelsea Groton initiated a Banker-in-Residence program at Foundry 66 in Norwich to support small businesses and entrepreneurs with their banking and financial goals, and continued to offer the twice-yearly Small Business Educational Series for current and prospective business owners.
$74.3 Million
in Total Loan Production
180%
Increase in Adoption of Cash Management Services
Grew Business
Deposits by
$86.3 Million
Investments
The Chelsea Groton Financial Services Team continued to support clients through a combination of strong relationship management efforts and a focus on risk appropriate portfolios.
The advisory team leveraged innovative solutions with clients, including various digital tools and calculators to measure risk, estimate life insurance coverage needs, and support retirement planning and financial planning. The team continued to maintain personal connections and regular dialogue with clients to ensure the recommended holistic plans that were developed continued to meet the risk needs and financial goals of the client, even in the wake of market volatility and an ultra-low rate environment.
Education became a greater focus than ever before. The CGFS team launched a monthly e-newsletter containing articles about the economic climate, and relevant tools and resources for clients. Classes on IRAs, social security, and preventing cybercrime were offered. And, a Kids Investment series was taught over the summer to the next generation of curious minds.
1,200+
Video and Phone
Consultations with Clients
10%
Growth Assets
Under Management
Investment and insurance products and services are offered through Osaic Institutions, Inc., Member FINRA / SIPC. Chelsea Groton Financial Services is a trade name of Chelsea Groton Bank. Osaic Institutions and Chelsea Groton Bank are not affiliated. Products and services made available through Osaic Institutions are not insured by the FDIC or any other agency of the United States and are not deposits or obligations of nor guaranteed or insured by any bank or bank affiliate. These products are subject to investment risk, including the possible loss of value.
Financials
| | | | | |
| --- | --- | --- | --- | --- |
| For the Years Ended Dec.31, 2021 and 2020 | | 2021 | | 2020 |
| Total interest and Dividend Income | | $40,544,490 | | $41,406,831 |
| | | | | |
| Total Interest Expense | | $1,499,551 | | $2,441,742 |
| Provision for Loan Losses | | $900,000 | | $1,140,000 |
| Net Interest Income After Provision for Loan Losses | | $38,144,939 | | $37,825,089 |
| Total Noninterest Income | | $8,450,463 | | $8,311,212 |
| Total Noninterest Expense | | $34,812,882 | | $33,040,389 |
| Net Operating Income | | $11,782,520 | | $13,095,912 |
| | | | | |
| Realized Security Gains/(losses) | | $2,879,202 | | $830,750 |
| Unrealized Security Gains/(losses) | | $7,004,017 | | $2,092,442 |
| Income Tax Expense | | $4,242,069 | | $2,946,157 |
| | | | | |
| Net Income | | $17,423,671 | | $13,072,947 |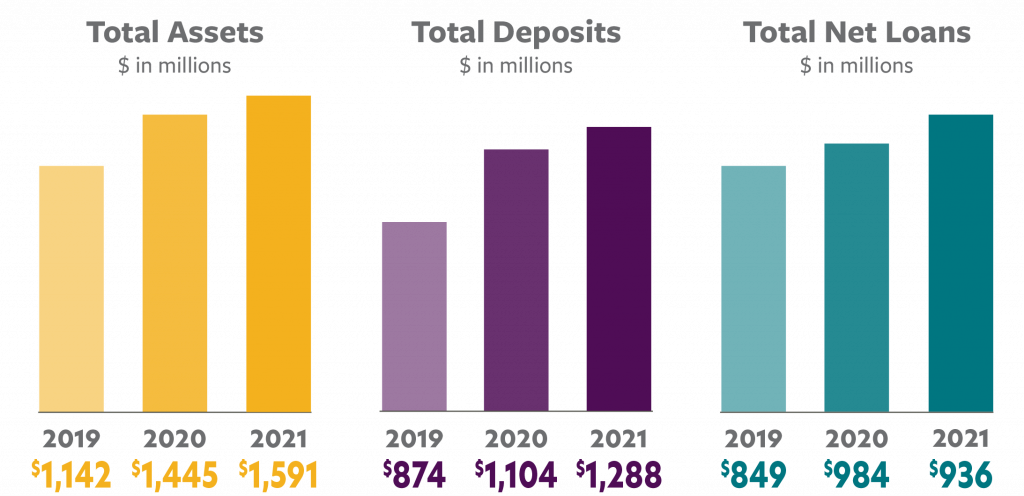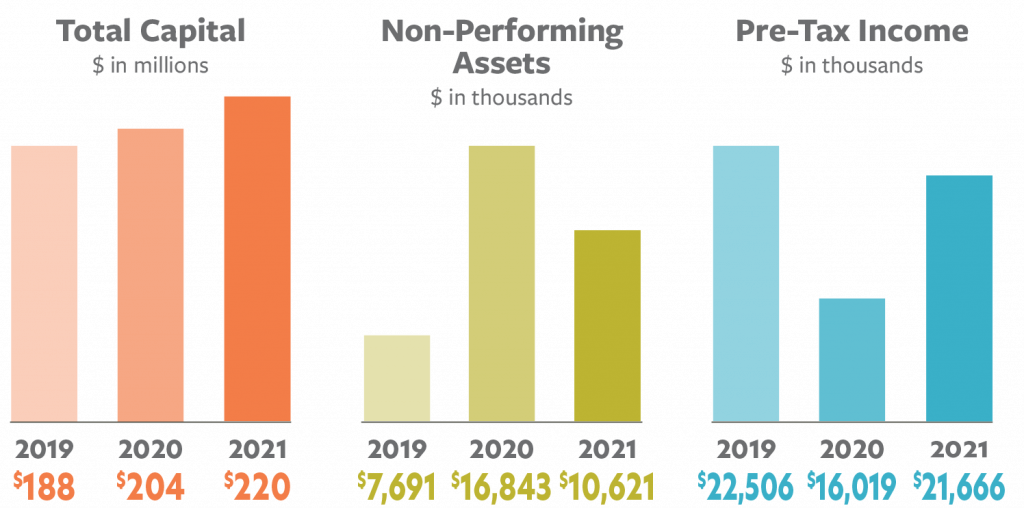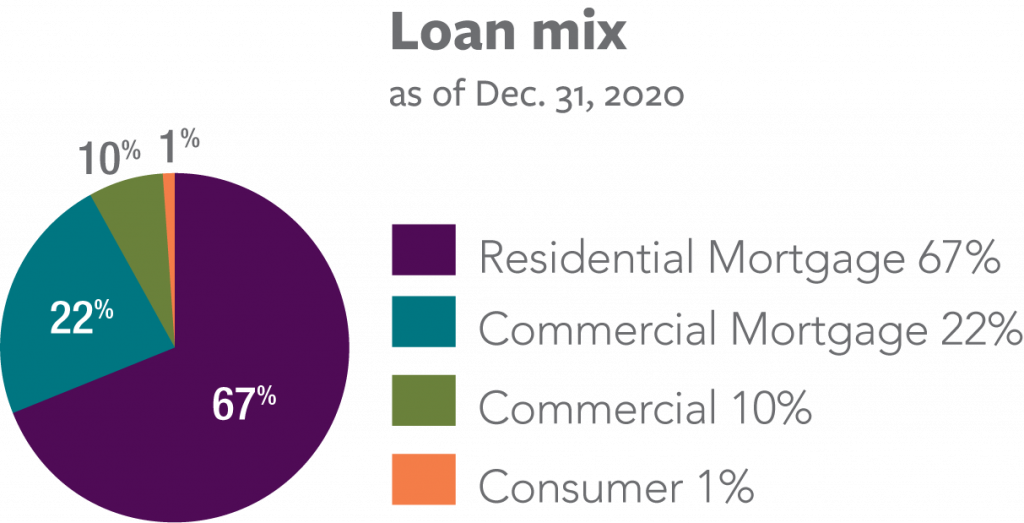 $1.6 Billion total assets in 2021
$16 Million increase in capital from 2020
Team Member Graduations, Honors, Awards, and Promotions
Launch Management Training graduates – Alyssa Bryan, Ana Healy, Tina Fortin, Dee Houde, Andy Irizarry, Alexis Kahn, Chris Lataille-Santiago, Sara Lundy, Kyle Main, Nancy Murphy, and Donna Thompson
Center for Financial Training graduate – Jessica Charette (Financial Services Operations Diploma)
Chamber of Commerce of Eastern Connecticut Leadership Program graduates – Alexis Kahn and Elizabeth Owen
Connecticut School of Finance and Management graduate – Rebecca Magner
New England Leadership Development Program graduates – Jessica Todd, Kate Allingham, Larry Walker
American Bankers Association (ABA) Marketing School graduate – Barb Curto
AML Fraud Professional (CAFP) certification – Nancy Menhart
ICBA Bank Security Certificate – Chrissy Caplet
Level 1 Residential Mortgage Servicer Certificate – Kelly Allard
LHH Coaching certification – Tam Higgins
Social Security Claiming Strategies certification – Kathleen Ringler, Financial Advisor, Infinex Investments, Inc.
Visa Payments Management Lab certification – Bill Mundell
Connecticut Bankers Association (CBA) "New Leaders in Banking" – Barb Curto and Kristin Zummo
Connecticut Five Star Wealth Manager by Five Star Professional – Bob Fradette, CFP, CLTC, ChFC, Financial Advisor, Infinex Investments, Inc.
ICBA Independent Banker's "40 Under 40: Emerging Community Bank Leaders" – Rich Balestracci
Top Workplace in Connecticut "Leadership Award" – Michael Rauh
The George Strouse 'Spirit' Award – presented to all team members in appreciation for each individual's contributions to the Bank, customers and the community in response to the pandemic.

Officer promotions
Katherine Allingham – Senior Vice President
Alexander Masse – Senior Vice President
Jessica Todd – Senior Vice President
Kelly Allard – First Vice President
Richard Balestracci – First Vice President
Tamela Higgins – First Vice President
Jean McGran – First Vice President
Kristin Zummo – First Vice President
Melinda Burridge – Vice President
Christina Caplet – Vice President
Jennifer DeLucia – Vice President
Sarah Dion – Vice President
Dawn Sandvoss – Vice President
Matthew Benoit – Assistant Vice President
Lisa Fields – Assistant Vice President
Elvira Fiore-Labrecque – Assistant Vice President
Maria Grenier – Assistant Vice President
Yana Kozleva – Assistant Vice President
Sara Lundy – Assistant Vice President
Rebecca Magner – Assistant Vice President
Mandy-Lyn Crispim – Assistant Treasurer
Damen Norton – Assistant Treasurer
Elizabeth Owen – Assistant Treasurer
Timothy Rich – Assistant Secretary
Leadership Team
Executive Leadership Team
Officers
Board of Trustees
Corporators