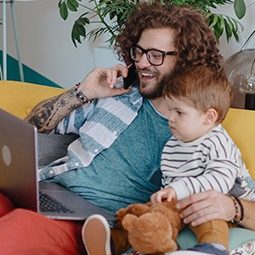 Want to open a new account from your couch? Trying to monitor accounts for fraud, set spending limits, and keep on budget? Looking for contactless debit and credit cards, or mobile wallet for improved security or convenience? Need to talk face-to-face with a banker, but it's after hours? We have tech-forward tools and apps for all these things, and so much more! Here are a few:
Open An Account
Easily open a new checking or savings account from the comfort of your home. Have a question while completing the application? Our team is here to help!
Smart Card App
Download the App to set spending, merchant and geography limits or any cards linked to your account. Make real time updates for travel, schedule alerts, monitor for potential fraud or unusual activity, and access several other features to personalize your debit experience.
Chelsea Live
Want to talk face-to-face with a local team member? Use Chelsea Chat online, download our Chelsea Live App, or stop by a Video Banking ATM (VBM) to video chat with a banker who can answer personal or business banking questions, help with loan payments, transfers, and so much more!
Contactless Card
Our contactless debit and credit cards are touch-free, secure, and quick to use. Simply hover your card over any check-out terminal with the contactless symbol. Plus, each transaction is accompanied by a one-time security code that protects your card information.
Mobile Wallet
Link your CGB debit card to your mobile device or smartwatch to make secure and convenient in-store, online or in-app purchases. All subscription purchases can be set to automatically pull from your checking account. And, since your payment card is securely kept in your phone or smartwatch, you can leave your wallet at home!
Questions on these tools or wondering about other offerings? Stop in to a branch, give us a call at 860-448-4200, or connect with us through Chelsea LIVE so we can help!