While some banks are choosing to close branch locations, Chelsea Groton is investing in their brick and mortar locations in order to provide customers and the community with access to well-trained team members who can offer sound financial guidance, teach them how to use the latest technologies for convenient and secure banking around-the-clock, and be a place to learn, grow and share together.
Breaking Ground at Groton Headquarters
Chelsea Groton Bank, along with contractor, Carlin Construction Company and architect, Bisbano and Associates, officially broke ground at the Bank's headquarters on Poquonnock Road in Groton.
The bank's new headquarters will feature a complete, inside-and-out rethinking of the workplace, as well as a reinvented branch designed around delivering an extraordinary customer experience in an environment conducive to learning and collaboration. The updated space will also include large video conferencing rooms for personal enrichment programs and public gatherings that can be used by non-profit organizations in the community, in addition to being used for bank-sponsored programming.
Chelsea Groton's branch, located on the ground floor of the headquarters building, will remain open throughout the entire renovation. For additional flexibility and convenience, the location currently features a walk-up Video Banking ATM, and will soon feature two drive-up Video Banking ATMs where, at the tap of a screen, customers will be face-to-face with a local Chelsea|LIVE video banker who can handle most transactions, as if a customer was inside the branch.
To learn more about the project and see updates of construction progress, visit chelseagroton.com/HQ.
Recent Reinventions
Over the last few years, Chelsea Groton has been working to make everything about banking easier, more approachable, and even more valuable to your life. As part of this effort, the Bank has transformed its Center Groton, Mystic, Norwich-Westside, and most recently, Niantic, branches into incredible learning environments.
The reinvented branches were designed to provide individuals with the tools and resources needed to empower them to make better financial decisions through learning, mentoring and collaboration. The comfortable yet modern layout features a knowledge bar equipped with a lending library with books to peruse at the branch or borrow, video conferencing rooms for calling in subject matter experts to help members with specific questions or challenges, private spaces for opening accounts and processing loans, and complimentary coffee and conversation brewing all day. The locations continue to offer a teller line where typical banking transactions can occur, a drive-up lane for convenient access to banking services from your car, and Video Banking ATMs where members can connect with a team member by video during extended hours, or use as a traditional ATM 24 hours a day, 7 days a week.
"The changes made inside our reinvented branches foster conversation and collaboration that both our customers and team members will benefit from. The enhanced technology and dedicated spaces for continued team member training will help us to provide customers with the best possible service as we support them in achieving their individual and business goals," shared Lori Dufficy, EVP, Chief Experience and Engagement Officer.
The Bank hosts educational webinars for community members on topics relating to personal finance, business banking, credit, lifestyle topics, and more. To view the most current programming schedule and to register to attend in-person or via Zoom, visit https://chelseagroton.enrich.org/.
What's Next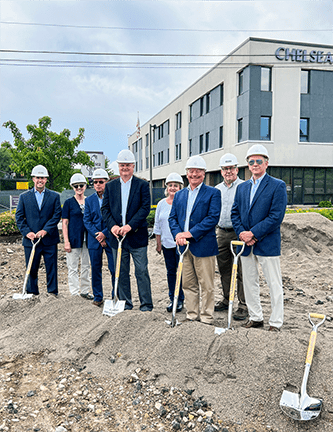 The Bank continues to focus on bringing together the best in in-person, digital and remote capabilities — an approach designed around the lives of customers so they can manage finances when, where and how they want. In addition to updating two more branch locations later this year, with additional branch renovations slated for 2023, Chelsea Groton is also working to continue to offer customers secure and convenient technology solutions, such as Contactless Debit Cards, Mobile Wallet, Video Banking, and coming soon, the Chelsea Groton Smart Card App.
Visit chelseagroton.com for updates on learning opportunities, construction updates, and the latest technologies available.
Caption for full group shot: L-R: John Carlin, Carlin Construction; Amy Goto, Bisbano + Associates; Tim Foley, Carlin Construction; Tony Joyce, Chelsea Groton Bank; Lisa Fields, Chelsea Groton Bank; Michael Rauh, Chelsea Groton Bank; David Jacques, Carlin Construction; and Bruce Bisbano, Bisbano + Associates