Today we'd like you to meet Krissa Beene! Krissa has spent years perfecting the art of cooking a Turducken, is a passionate community volunteer, and has a few big trips on her bucket list.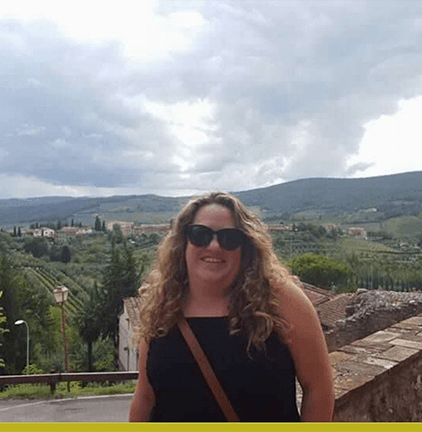 1. What is your current role and department? How long have you worked at Chelsea Groton Bank?
I'm the Marketing and Events Coordinator in the Marketing Department and I've been with CGB for four and a half years.
2. What do you love most about working at Chelsea Groton Bank?
I love all that Chelsea does for the community. From Foundation giving to sponsoring local events and organizations to employee Dress Down Days, the team at Chelsea Groton is passionate about our community and strives to give back as much as possible.
3. What are you most proud of in your work at Chelsea?
Last holiday season, we decided to adopt families in need through local organizations. We were able to shop for 10 families and provide some holiday cheer during a difficult year. This year, we were able to adopt 16 families! The generosity of Chelsea Groton and my team members never ceases to amaze me.
4. Tell us a little bit about your life outside of work.
I love going to the beach in the summer and going to see live music, pre-COVID. I also enjoy reading, board game nights with friends, playing video games, and spending time with family.
5. What are you passionate about? What causes do you support? What types of volunteer activities do you enjoy?
I'm passionate about the arts! I've been on the Board of Directors of the Hygienic Art, Inc. for the past 3 years and am currently the Secretary. I also love walking in area parades, volunteering with the United Way of Southeastern CT and helping out with my Chelsea Groton team at community events.
6. Share about a favorite personal or family tradition.
My husband and I host our families for our favorite holiday, Turducken Friday. On the day after Thanksgiving, 25 family members come over and we cook a big turducken (turkey, duck, and chicken) and all the fixings. It's truly my favorite day of the year.
7. Help us celebrate your uniqueness by sharing a little something special about you. It could be a life experience, skill or interest, passion, unique quirk, or even your best party trick!
I started stand up paddle boarding 2 years ago and go whenever I can in the summer.
8. If you could travel anywhere, where would you go?
A family trip to Italy was cancelled due to COVID, so I'm hoping we can reschedule it soon. I'd also love to go to Australia and New Zealand some day.  
Connect with Krissa Beene.