Riverfront Children's Center does amazing work in the Groton community! Riverfront's mission is to provide high-quality, affordable childcare and educational services, while comprehensively nurturing the unique needs of children and their families.
Organization: Riverfront Children's Center
Location: 476 Thames St, Groton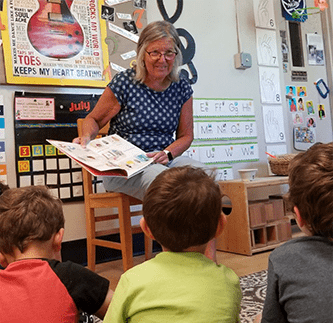 How many years have you been in business?
Riverfront began 39 years ago, in 1983, as one classroom with 23 children, as part of YWCA programming. When the Y closed, the building was purchased, renovated and expanded to the 10 classrooms we have operating today. We're currently serving 122 children.
What do you love about your organization?
Susan Radway, Riverfront's Executive Director, is passionate about assuring all families have access to affordable high-quality early care and education for their young children. Riverfront's sliding scale fee makes this possible. Through donations and partnerships, Riverfront also provides additional support services for families, including a food pantry and diaper bank.
Tell us about your beginnings and how you continue to serve the community.
Riverfront was started from a request by a group of women working at Electric Boat in need of accessible childcare. Today the center continues to serve a diverse community of military, executive and working-class families. With the monetary support from local foundations, civic organizations, grants and donors, Riverfront provides an affordable, comprehensive educational program that supports children's development. Everywhere you turn you can see how connections and donations from throughout Groton have impacted the center's ability to maintain its National Association for the Education of Young Children (NAEYC) accreditation. From a partnership with Bill Memorial Library that supports early literacy, to the facilitation of social-emotional skill development through a grant with Child & Family Agency, to grants that support the development of the outdoor classroom, Riverfront reflects the generosity of the community.
What do you love most about the organization's community?
Riverfront is a business located on the edge of a residential neighborhood, making it the perfect location for children to explore and learn. The children are able to watch boats, submarines, trains, buses and planes as they talk about transportation. And, they learn the history of the community by exploring the Avery-Copp House, Fort Griswold and the Submarine Memorial Park. There is always someone ready to step up to volunteer, partner, or support the center as it fosters creativity, embraces the spirit of adventure, and promotes resilience and real-world problem solving for all children.
Interested in learning more about the Riverfront Children's Center and the services they provide? Head to www.riverfrontchildren.org or call 860-445-8151.