Today we'd like to introduce Waterhouse Salon owner Ric Waterhouse. Opened in 1990, Ric and the Waterhouse Salon has been a staple of New London for over 30 years.
Owner: Richard Waterhouse
Business: Waterhouse Salon
Location: 136 Bank St. New London, CT, 06320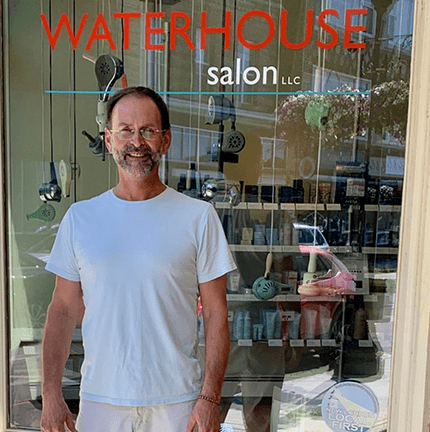 How many years have you been in business?
We have been in business for 32 years, opened in 1990.
How did you get your start in this line of business?
I gained an early knowledge for the business from the New London Academy of Hairdressing, realizing I wanted to create my own business.
What do you love about your business/industry?
I'm most passionate about aiming to please my clients, helping with their confidence and overcoming challenges. By providing beautiful looks, my clients leave glowing and feeling like their best selves.
Why did you choose to open your business in this community?
New London was the ideal location for my business. I established my reputation within New London when I first started and created a special relationship with my clientele. I was not ready to leave those special individuals behind…so there was no better place to open shop than Bank Street, which is close to these individuals.
What do you love most about the community where you do business?
The community within the city of New London is indescribable. They really came out to support me when opening my business – and since have been no different. The people here are like a family, they show love and support by uplifting everyone and providing a helping hand if you need it.
How has Chelsea Groton Bank supported you personally and/or professionally?
Chelsea Groton Bank has been one of my biggest supporters. The bank has helped me through all my major life events – when I purchased my home, my hair salon building, and any renovation I have made. Without Chelsea Groton Bank, the major life events I have had may not have been as easily done.
What is your vision for the future of your business and/or your community?
Despite being a strong salon independently, Waterhouse Salon has recently merged with Nancy's Salon in New London. By doing so, we will provide a stronger team of stylists, and secure a stronger future with clientele we care about.
Interested in learning more about Waterhouse Salon and the services they provide? Head to www.waterhousesalon.com or call 860-442-9543.