Today we'd like to introduce Blissworks yoga studio and owner Trish Reyburn! Trish has been practicing yoga since 1995 and has been running Blissworks in New London for almost 18 years.
Owner: Trish Reyburn
Business: Blissworks Yoga & Healing Arts studio
Location: 228 State Street, New London, CT 06320
How many years have you been in business?
19 years in February.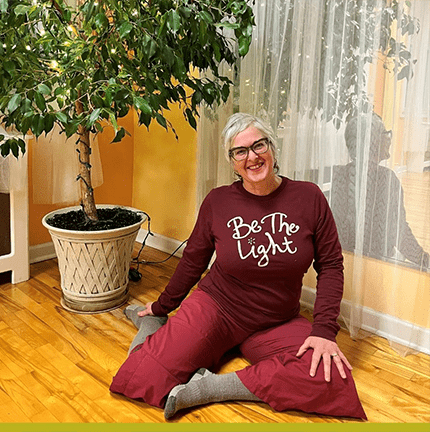 How did you get your start in this business?
I began my yoga practice in 1995 through adult education. I had been diagnosed in my teens with both Rheumatoid Arthritis and Lupus and was looking for alternative ways to regain my health. Yoga was the first thing I experienced that I absolutely loved to do and I decided to get certified to teach in 2000. I opened Blissworks in 2004 in order to share my love of yoga and have been symptom-free from auto-immune diseases for over 25 years now!
What do you love about your business/industry?
I love to see the transformation of clients from when they walk in the door to when they leave. Yoga practice, massage and reflexology all support the body in healing itself. Most people come into the studio feeling tense from their life's stresses. When they leave, you can observe a noticeable difference in their face, body, and attitude. They have hit the reset button and have found a bit of equanimity in themselves.
What is the best part about the community where you do business?
There are several long-standing businesses in New London who have held strong through decades of ups and downs. And there is a wonderful sense of dedication by these business owners that holds the community together. Believing in a better tomorrow is great, but supporting the small business owner now is what will bring that bright future. I love the fact that these businesses are around pay homage to the community who is supporting them.
How has Chelsea Groton Bank supported you personally and/or professionally?
Chelsea Groton has been my personal and business bank since the 1990s, before there was even a branch in New London. They have helped me with financial advice, applying for loans, and making smart adjustments to my accounts. I have always appreciated the personal attention I am given, no matter which branch I visit. Everyone has always been both informative and kind in their relations with me.
Interested in learning more about Blissworks and the services they provide? Head to blissworksyoga.org or call 860-448-YOGA.