Dan Meiser, owner of 85th Day Restaurant Group which operates Oyster Club, Treehouse, Engine Room, and co-owner of Stone Acres Farm, had a vision for bringing people the finest, freshest, most sustainable local ingredients in the meals they were served.
A graduate of the French Culinary Institute in Manhattan, Dan has worked in the kitchens of world-renowned chef Daniel Boulud at Restaurant Daniel, and then Café Boulud. He gained front of the house experience under restauranteur Rich Rosenthal of the Max Restaurant Group, and as General Manager of Trumbull Kitchen. In 2007, Dan helped to open Firebox in the Frog Hollow neighborhood of Hartford. After three years of receiving national acclaim at Firebox, he was recruited to assist in the re-opening of the Ocean House in Watch Hill, RI, consulting with the food & beverage team for their first season.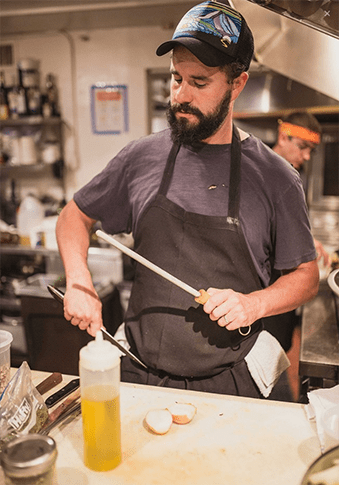 After spending more time in the Stonington area, Dan felt ready to open his own place and wrote a business plan for a restaurant called Oyster Club. Their mission would be to share a food narrative in every meal, from seed to harvest, to introduce diners to the people, places, and practices involved along the way.
"There are so many amazing purveyors of food in this area, from oyster farms, beef farms, and vegetable gardens, to mushroom farms, cheese, seafood companies, and bakeries too," shared Dan. "We knew that with the right team of people, we could bring a really successful restaurant to downtown Mystic."
"When I first wrote a business plan for Oyster Club and needed a loan, we visited a few different banks, one being a global powerhouse and the other being a large regional bank. Both of them turned us down. Chelsea Groton took the time to understand the plan, ask the right questions and ultimately believed in the project," explained Dan.
Funding Plan: In order to bring Oyster Club into being, 85th Day needed a Construction/Permanent Commercial Mortgage to purchase a commercial real estate property on Water Street in Mystic, with remaining funds going towards renovations on the building.
Following the approval of the loan, Dan's team began to convert the old carriage house into what is now the thriving New England classic, Oyster Club, which opened its doors in 2011. Featuring a daily menu with ingredients almost exclusively sourced locally, Oyster Club has been named the "Best Upscale Restaurant in CT" by the Connecticut Restaurant Association, one of the "Best Oyster Bars in America" by Travel & Leisure Magazine, and the #76 restaurant in America by the Daily Meal, on their annual "101 Best Restaurants in America" list.
Two years after opening, Dan and executive chef James Wayman were ready for their next restaurant venture. Once again, Chelsea Groton got behind the idea for Engine Room, which features American comfort food with a strong beer and cocktail program and remains committed to using local ingredients like its sister restaurant, Oyster Club.
A Construction/Permanent Term Loan was needed to complete the Engine Room's restaurant fit-out in what was previously the Lathrop Marine Engine building.
A few years later, Chelsea Groton also supported Dan's team with a Commercial Mortgage to refinance their existing commercial loan for the Oyster Club's renovation of what was once an outdoor patio, into what is now an enclosed casual dining option off the bar area offering year-round seating. "It's been great to be a part of the evolution of Dan's business. To see it go from one restaurant concept to a mature, successful enterprise of several eateries, while remaining true to the original mission of working with all local purveyors is really amazing," expressed Rich Balestracci, VP, Commercial Loan Officer. "We're incredibly proud to help local businesses like Dan's get their start and to support them as they grow."
85th Day group today: In 2017, Dan and James opened Grass & Bone, a neighborhood butcher shop and restaurant specializing in whole animal butchery. They are now serving breakfast, lunch, and dinner at communal tables and high top bar spaces seven days a week.
Dan was part of a group of investors who purchased Stone Acres Farm. Stone Acres started an active CSA program and expanded the Yellow Farmhouse Educational Center. They regularly hold private dinners cooked on the massive fire pit, outdoor weddings, intimate events in the Manor House, and more.
The 85th Day team created a new holding company, 85th Day Food Community, an umbrella brand that encompasses Oyster Club, Engine Room, and Grass & Bone, as well as all that the group does within the regional food community. Dan shared, "The mission of 85th Day Food Community is to further support and nurture the culinary and agricultural industry in New England. We couldn't be more proud of our contributions to that mission to date and for all that is to come."
This summer, Treehouse, which sits above Oyster Club and is open for the summer months, will see some major improvements. Seating space will be expanded, a custom tent will be installed to allow for dining in any weather, and there will be updated railing space for more views of the Mystic River.
"Seven years, three restaurants, and a farm later, we've outperformed our wildest dreams. Not only do we do all of our business banking with Chelsea Groton but we encourage our 200-plus member team to bank with them as well. They perform at the highest level. The customer service is amazing and their people are the best," continued Dan. "They are a partner in our business and our community. They share our vision of building our business while helping people and improving the local community."
"There's nothing better than partnering with area businesses who are committed to making the places we live and work better by the work they do," shared Rich.
Chelsea Groton Bank is proud to be a lending partner for 85th Day Restaurant Group. To learn more about Chelsea Groton's business banking capabilities, click here.
This article originally published in the Spring of 2019.