One of the ways Chelsea Groton Bank gives back to the community each year is through the Bank's community education program, Chelsea University. Chelsea University was created to help empower individuals, families and businesses to make the financial decisions that are best for them. To help with that, we offer a full calendar of classes, programs and events. Check out all the different ways you can learn from Chelsea Groton!
Chelsea University Classes & Webinars
Chelsea University offers a variety of classes, in person and virtually, every week. From budgeting basics to staying safe online to learning how to use your iPhone, Chelsea Groton's Community Education Officer Miria Gray teaches classes in our branches, as well as in area schools.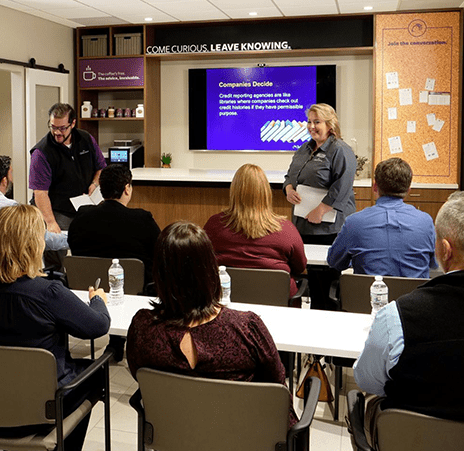 For several years, Chelsea Groton has hosted a Small Business Academy, an educational class series that provides prospective and current business owners with training and expert advice in many areas needed to start or maintain a business. This year the program is going through some exciting changes in order to make it more accessible to small business owners and their demanding schedules. Be on the lookout this fall for more details about how our business series will be evolving to offer business owners dedicated mentors and customized programming based on the growth stage of their business.
In addition to our financial education offerings, Chelsea Groton also hosts a variety of lifestyle classes and events. These events help us connect with our community while participating in fun activities hosted by community members. Be on the look out for upcoming lifestyle events, including pet adoption days, Chelsea Cooks cooking demos, holiday crafting, and more!
Chelsea University E-Learning Center
In addition to our in-person and virtual classes and webinars, we also have the Chelsea University E-Learning Center, a free resource for financial education. Within our e-learning platform, you'll discover financial courses, instructional tutorials and how-tos, games and progress tracking to help you achieve your goals, articles, calculators and more.
Chelsea Groton Bank's YouTube Channel
Did you know that Chelsea Groton has a robust YouTube channel? It hosts over 200 videos of our financial education classes, our Small Business Academy, educational videos for children, and past lifestyle events. With playlists created for every possible topic, you will find a wealth of information that you can access at any time. We even have a cooking show, Chelsea Cooks!, hosted by a Chelsea Groton team member!
Whether it's in person, virtually, or through one of our online platforms, Chelsea Groton is committed to offering free financial education and lifestyle events to help our customers and community members conveniently and safely manage their finances, achieve their goals, and have some fun together too.