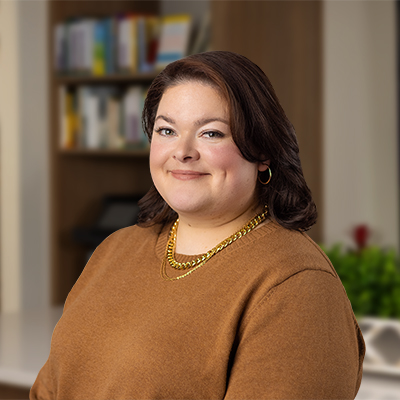 Meet Compliance Manager, Sara Lundy! When not working, you can find her on the beach or going on adventures with her husband. Her dedication to the community shows in her volunteer work, as well as her role as Community Reinvestment Act (CRA) Officer. Get to know Sara!
What is your current role and department?
I am the Bank's Compliance Manager, as well as its CRA Officer and Diversity, Equity, and Inclusion Officer. I'm part of the Risk and Compliance department.

What do you love most about working at Chelsea Groton Bank?
Hands down, the people! Chelsea Groton is one of those rare workplaces where people genuinely want to hear what you have to say. From early on in my time here, I've had great mentors and folks who have advocated for me, who have pushed me to expand into new opportunities and made me feel very included in our little community.

What are you most proud of in your work at Chelsea?
I'm very proud of being an ambassador for the Bank, both with other employees and with the wider community. I'm very fortunate to have found a role and a company that provides me with a sense of purpose. The work we do isn't just about dollars and cents – it's about making our community a better place for all of us.

Tell us a little bit about your life outside of work.
I live in Oakdale with my husband, and we enjoy going on adventures together. Our favorite pastime is finding new spots to enjoy nature and we're never too far from a beach. When we're not out exploring, I like teaching myself new crafts. My next attempt is to teach myself to sew.

What are some things you like to do to support the community?
Within the banking world, I'm a Board member of the Bank Compliance Association of Connecticut, which is an educational association for compliance professionals. I'm also the Chairperson of the Town of Montville's Planning and Zoning Commission.