Chelsea Groton Bank held a ribbon cutting ceremony for its reinvented Niantic branch at 21 Pennsylvania Avenue, Niantic. The ceremony included remarks from Holly Cheeseman, Connecticut State Representative and Executive Director of Niantic Children's Museum, and Tony Sheridan from the Chamber of Commerce of Eastern CT. Chelsea Groton's President and CEO Michael Rauh and Chief Operating Officer Tony Joyce spoke about the Bank's history, community stewardship, and vision for the Niantic branch's reinvention. Dana Chapel, Customer Solutions Manager at the Niantic branch, introduced her team and shared how her team's 108 years of collective Chelsea Groton experience will serve customers in the reinvented space.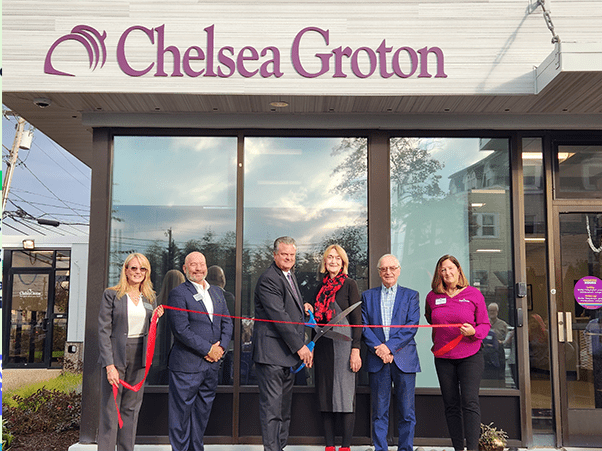 The ceremony closed with Chapel presenting a $500 donation to the Niantic Children's Museum, which Cheeseman accepted on behalf of the organization. "Business is important but it's the human touch that makes a difference at the end of the day," expressed Cheeseman in appreciation for Chelsea Groton's commitment to the local community.
"Chelsea Groton Bank has a long-standing commitment to the community and our reinvented branches embody this dedication," explained Rauh. "The changes we made to the Niantic branch foster conversations and collaboration that both our customers and team members will benefit from. The enhanced technology and dedicated spaces for continued team member training will help us to provide customers with the best possible service as we support them in achieving their individual and business goals."
"Our vision for the Niantic branch was to create an environment that went beyond a functional space for performing transactions. It's a space that allows for comfort and confidence when helping our customers to prepare for their financial futures. Reinventing these branch spaces is one of the ways we're showing our continued commitment to our team and to the local community. We're proud to give team members and community members a place to come to learn, grow, and share together," explained Joyce.
This is the fourth branch Chelsea Groton has fully reinvented, with other locations to follow. The branch was designed to provide individuals with the tools and resources needed to empower them to make better financial decisions through learning, mentoring and collaboration. The comfortable yet modern layout features a knowledge bar equipped with a lending library with books to peruse at the branch or borrow, two video conferencing rooms for calling in subject matter experts to help members with specific questions or challenges, private spaces for opening accounts and processing loans, and complimentary coffee and conversation brewing all day. The location continues to offer a teller line where typical banking transactions can occur, a drive-up lane for convenient access to banking services from your car, and a walk-up Video Banking ATM where members can connect with a team member by video during extended hours, or use as a traditional ATM 24 hours a day, 7 days a week.
The branch offers educational programming free of charge throughout the year on topics relating to personal finance, business banking, credit, lifestyle topics, and more. To view the most current schedule of classes and events, visit https://chelseagroton.enrich.org/.