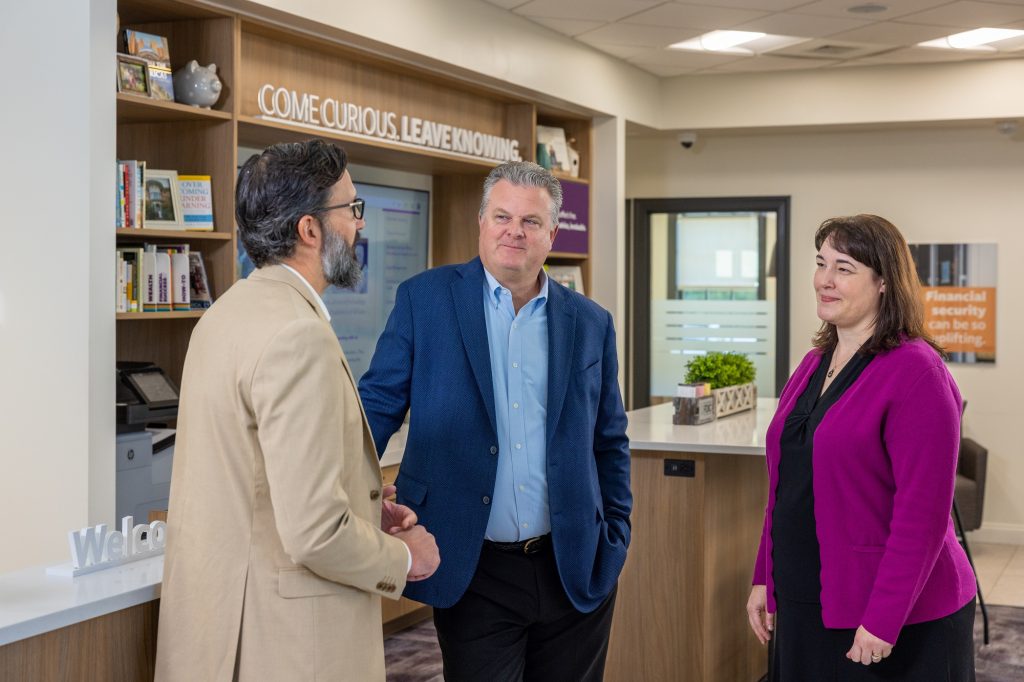 Chelsea Groton Bank reported impressive financial, educational, technical, and community-based accomplishments at its 168th Annual Meeting on Thursday, April 13, 2023. President and CEO Anthony A. Joyce, III presented the Bank's 2022 results to Bank officers, Board members and Corporators.
"Our mission as a mutual, community bank has always been, and will continue to be, helping individuals, families, and businesses succeed in big ways and small by putting more effort into everything we do," shared Joyce. "The relationships that our experienced team builds with the members of our community has always set us apart. We've continued to develop technologies to offer secure and convenient access to manage money, apply for loans, and plan for the future, but our team is always there, ready to counsel customers, flex as new needs arise, and support the community any way we can."
In 2022, Forbes listed Chelsea Groton Bank as the #1 ranking bank in Connecticut on the "America's Best-In-State Banks" list. Chelsea Groton was once again voted "Best Bank" by the readers of The Day (2015-2022) and named a "Top Workplace" by the Hartford Courant based on an employee survey (2016-2022). BauerFinancial, an independent bank rating service, awarded Chelsea Groton their "5 Star" designation for financial stability and exemplary excellence for the 115th consecutive quarter, maintaining Chelsea Groton as a "Best of Bauer" bank.
As of December 31, 2022, the Bank's total assets stayed steady at $1.5 billion. Net operating income increased from $11,782,520 to $16,542,563 in 2022. Total deposits saw a $16 million increase, and total net loans increased by $63 million. There was a $31 million decrease in capital from 2021, due to required accounting adjustments to reflect market value fluctuations in Chelsea Groton's investment portfolio. The Bank remained extremely well-capitalized by all measures.
Chelsea Groton provided more residential loans in New London County than any other bank in 2022.* The Bank closed 865 consumer and mortgage loans, funded 296 home equity loans and lines of credit, and assisted 122 homebuyers in closing on their first home. Chelsea Groton secured over $6M in loans, grants, and downpayment assistance for 30 homebuyers by partnering with state, federal, and private organizations who have developed programs that support low to moderate-income borrowers in making a home purchase. The Bank was one of 12 lenders in Connecticut who participated in the CT Housing and Finance Authority (CHFA) "Time To Own" forgivable down payment assistance program. Chelsea Groton continues to work with employees of Lawrence + Memorial Hospital through the "Home Ownership Made Easier (HOME)" program that the Bank and L&M have partnered on, providing eligible L+M employees with partial loan forgiveness, as well as other incentives, home buying support, and educational opportunities when they purchase a home in the city of New London.
Chelsea Groton was named a Commercial Record "CT Top Lender" in residential and commercial categories. The Bank also made the Commercial Record's "Fast 50" list for commercial loan volume. Chelsea Groton continued to support local business owners to obtain over $12M in PPP loan forgiveness in 2022.
The Bank increased the deployment of cash management services by 17%. Implementation of the Positive Pay fraud detection service, which helps business customers safeguard their accounts against fraud, accounted for almost half of the new services deployed in 2022. Complimentary financial wellness programming for the employees of businesses in our region was also provided as an added benefit of the organization's partnership with Chelsea Groton.
The Bank's Chelsea University financial wellness program conducted over 300 programs this year – in Bank branches, classrooms, at area businesses, senior centers, and other organizations. Topics included budgeting, credit, identity theft protection, preparing to buy a home, business marketing, cyber security and fraud prevention, business cash flow management, how to use an iPhone, and more. Lifestyle programs, including crafts, pet adoption days, shred days, and cooking programs were also offered and enjoyed by many members of the community. Community members unable to attend in-person joined virtually and benefited from the additional resources available on the Bank's Online Learning Hub and the Chelsea Groton YouTube page.
The Bank and Chelsea Groton Foundation together gave over $600,000 to community organizations in 2022. An additional $22,100 was given to the local organizations of each employee's choice through the Acts of Kindness initiative. Chelsea Groton held clothing, food, and supply drives throughout the year, and adopted 12 local families during the holiday season. Team members participated in five dedicated days of service through the One Chelsea DEI initiative and logged over 7,000 hours volunteering in the community.
In 2022, the Bank's Niantic, Salem, and Sprague locations were transformed. All branches have now been outfitted with a Video Banking ATM (VBM), which gives customers the opportunity to interact with a local team member through a video screen during extended hours to complete transactions that are more complex than a traditional ATM could support. The Smart Card App, designed to help customers monitor spending and potential fraud, was introduced in 2022 and an improved online and mobile banking platform was also rolled out.
The Bank continued to focus on professional development activities for team members at all levels of the organization. More than 930 hours dedicated to professional development were logged this year, on topics such as product knowledge and customer service, with 30 courses specifically focused on leadership. Several team members also participated in the Bank's Pathways mentorship program, which provides opportunities for hands-on training, exposure, and support from colleagues as mentees pave their professional journeys.
"2022 brought many exciting advancements, and its share of challenges too. Our talented and experienced team worked hard to ensure that regardless of what outside factors were occurring, we continued to provide the highest level of service to customers and our community," shared Joyce. "You can count on Chelsea Groton to remain deeply committed to serving our community, through funding, volunteerism, and responding to any needs that arise. We'll always be an organization committed to supporting the health, education, culture, and diversity of the communities we serve."
At this year's meeting, five new Corporators were elected:
DR. STEPHEN M. COAN: Coan is CEO Emeritus, Mystic Aquarium, Strategic Advisor, MResult Corporation, and Strategic Advisor to the Chairman and CEO, Resorts World Singapore. He earned a PhD and a master's degree in Management of Human Services from Brandeis University. Coan serves as the Chair of Connecticut State Advisory Council on Tourism, the Commissioner of New England Commission of Higher Education, the Chair of Strategic Planning and Trustee for Cal Ripken, Sr. Foundation, and the Chair of the Innovation Center of New London. He resides in Pawcatuck, CT.
DONNA HANDLEY: Handley is President, East Region and Senior Vice President, Hartford HealthCare. She provides executive leadership with a focus on service line growth, strategic planning, and physician development for the East Region, which includes The William W. Backus Hospital in Norwich, Windham Community Hospital in Willimantic, the Plainfield
Emergency and Ambulatory Center, various outpatient clinics and urgent care centers, Backus
Physician Services, and CONNCare, Inc. Handley began her career as an Oncology Certified Nurse specializing in thoracic surgical oncology at Massachusetts General Hospital. She holds a Bachelor of Nursing Science from Northeastern University and a Master of Arts in Health Care Administration from Siena Heights University.
CALEB ROSEME: Roseme is the Chief Operations Officer, Assured Quality Homecare. He oversees the home care agency's operations, ensuring all systems are in place and everything flows smoothly. He graduated with a degree in mechanical engineering from the University of Connecticut and has a Lean Six Sigma Green Belt Certification. Roseme is a member of Eastern Connecticut Workforce Investment Board (EWIB) and serves as an elder of Castle Church. He is an active volunteer with his church and community. He and his wife Samanta reside in Norwich, CT, along with their three children.
SAMANTA DESCOMBES- ROSEME: Descombes-Roseme is the Founder and Chief Visionary Officer (CVO) at Assured Quality Homecare (ASQ), founded in 2016. She brings over eight years of experience in the healthcare field. Descombes-Roseme has a bachelor's degree in French and Africana Studies from the College of the Holy Cross and a bachelor's degree in nursing from the University of Connecticut. She volunteers at Castle Church and serves as the Secretary of Mystic Geriatrics Institute. She and her husband Caleb reside in Norwich, CT, along with their three children.
JONATHAN SHOCKLEY: Shockley is a member of the Mashantucket Pequot Tribe (MPT) and Director of Business Development, overseeing the Tribe's commercial real estate and new development projects. He has served roles on the Tribe's Economic Development Committee, Investment Working Group, and Housing Committee. Shockley earned his Bachelor of Science in Interior Design from Parsons School of Design in New York City and his MARCH from Pratt Institute School of Architecture in Brooklyn, NY. He is a licensed CT and RI realtor with Switz Real Estate. Shockley serves as a board member for the Mystic Naik YMCA and Mystic Museum of Art.
View the Chelsea Groton 2022 Annual Report video and financials.
*The Warren Group, Inc. Mortgage Marketshare Module Report- All Residentials, All Regions in New London County, CT Annual 2022